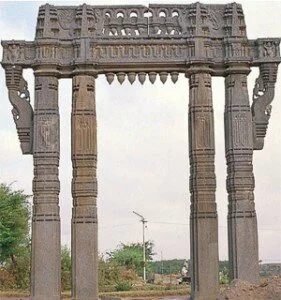 Warangal District is situated in the northern part of Andhra Pradesh. It is the fourth largest city of Andhra Pradesh and is located in the Telangana region. The largest Municipal Corporation of the state is in Warangal district that encompasses three cities, namely Warangal, Kazipet and Hanamakonda.
According to legend, Warangal and Hanamkonda were linked with the dynasties of the Great Vishnukundins. Warangal, known as Orukal during the 18th century AD, was a capital city of the Yadava King of Tuluva. This city was also ruled by the Kakatiyas or Ganapathis, from the middle of the 12th century AD up to two hundred years.
Few kings like Polaraja Rudra Deva-I, Rani Rudrama Devi, Ganapathi Deva and Prathaparudra were able to occupy great positions in Warangal History. Though the city has seen phases of success under the rule of several kings, historians have divided the development of the city into four stages on the basis of important historical events and growth of the city.
Warangal is situated 148 kilometres north-east of Hyderabad. The place is 870 ft above mid sea level and is bound on the west by the Medak district, on the east by Khammam district and on the south by Nalgonda district. Spread over12846 sq km, the district has a tropical climate and is very hot in summer and moderately cold in winter. It generally tends to be dry and warm during the summer season and remains like this till August and September.
The culture of Warangal is mainly recognised for fine arts and literature. Various art forms like modern songs, poetry, dance, painting and films has emerged and flourished in this city. Every two years, the district hosts a Samakka-Sarakka Jatara (congregation), commemorating the fight of a mother-daughter duo with the reigning ruler over injustice. Besides this, the Batkamma festival is an important festival of this place.
Warangal has several ancient temples including Thousand Pillars Temple, Swayambhu Temple, Rayaparthy Shiva Temple, Siddeshwara Temple, Inavolu Temple, Veeranarayana Temple, which are popular tourist attractions. The place is also known for its lakes, parks and wildlife. Other tourist attractions of Warangal include Padmakshi Gutta, Musical Garden, Laknavaram Lake, Pandavula Guttalu, Champak Hills Sri, Khush Mahal, etc.
The nearest airport to reach Warangal is in Hyderabad, which is 160 km away. Warangal has its own railway station and is linked to major cities in India by rail as well as road. The best time to visit Warangal is the months of November to March, when the temperature lowers down slightly.
Category: Tourist Places
Comments (0)
Trackback URL | Comments RSS Feed
There are no comments yet. Why not be the first to speak your mind.