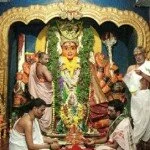 Bhadrakali Temple of Warangal, is one of the oldest temples for Goddess Bhadrakali in India. Bhadrakali Temple is located on the banks of the Bhadrakali River, a beautiful location between Hanamkonda and Warangal, and is just 1.5 km from Government Polytechnic.
Bhadrakali temple is believed to be constructed by the King Pulakesi II of Chalukya dynasty around 625 A.D to commemorate his victory over Vengi region of Andhra Desham. This can be observed from the square pillars used in the temple structure which were different from the circular pillars commonly used in temples constructed by Kakatiyas.
The Kakatiya kings of "Orugallu empire" which is the present Warangal city have adopted Goddess Bhadrakali as their "Kula Devatha" giving her preference over other gods. The lake was built later by Ganapathi Deva, a minister in Kakatiya Dynasty. A road leading to the temple was also added during that period.
About Bhadrakali  Temple
The temple's main deity Bhadrakali matha's image is made in a 2.7×2.7 meters square stone facing west with pleasant looking eyes holding weapons in her eight hands with Shiva under her feet. 'Sree Chakram' and 'Utsava Vigrahas' of Bhadrakali are placed in front of the main deity.
A statue of Lion, Bhadrakali's vahana on which she rides, is placed opposite the sanctum sanctorum. The temple also has a Dhwaja Sthambam and Balipeetham.
Some of the oldest deities in the Maha Mantapam along with Bhadrakali are Uma Maheshwara images on stone in front of Shiva Linga, Subramanya Swamy statue, Hanuman statue and Navagrahas all carved in stone.
A new road was constructed in 1966 from the temple to the Warangal-Kazipet main road next to Government Polytechnic. The temple has been expanded in the 2000′s with the addition of Alaya Shikaram, Maha Mantapam. Recently Sri Vallabha Ganapathi temple and temple Parikrama have been added to the main temple.
The temple management is also running a Veda Pathasala in Warangal (School for learning Vedas) near the temple.
There are 8 major and 12 minor temples in the mountains surrounding the Bhadrakali Temple including Padmakshi Amma temple, Sri Shirdi Sai Baba, Sri Narasimha swamy temple and Sri Pothuluri Veerabrahmendra Swamy temple.
Bhadrakali Temple has become a major tourist place and people from many parts of India visit this temple.
The people of Warangal and Hanamkonda believe in Goddess Bhadrakali and visit her for all the auspicious occasions like newborn babies, marriages etc. and offer her bangles, sarees and garlands and pray to her for her blessings.
People with desires go to the temple and tie a coconut (Mudupu) with red blouse piece at the temple after pooja. After the fulfilment of their desires they once again visit the temple and untie the coconut and perform poojas and offer sarees to the deity.
Category: Historical Places, Warangal Temples
Comments (0)
Trackback URL | Comments RSS Feed
There are no comments yet. Why not be the first to speak your mind.