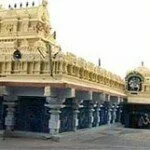 IMPORTANCE:
The temple is dedicated to Goddess Bhadrakali, the Glant mother Goddess, with fierce looking eyes and face. The main attraction of the temple is the stone image of the diety in human form, in sitting posture, wearing a crown and having eight hands holding various weapons.
The deity which measures 2.7 meters in height and the width is believed to be worshipped by the historic ruler Pulakesin-II of Chalukya Dynasty in the year 625 A.D. After his win over the "vengi" region of Andhra Desh. Later "Hari" a Minister of Kakatiyan Ruler Ganapathi Dev, Constructed the approach road and huge tank near the temple.
LOCATION:
The temple is located in the City of Warangal. It is about 5 Kms away from the Warangal Railway Station & Bus Station and is well connected by city bus service.
PRESENT STATUS:
The temple is being maintained by the Endowments Department, who collect the offerings made to the temple and spend on the upkeep and repairs of the temple. Drinking water facility is available near the temple.
IMPROVEMENTS REQUIRED:
* Small Shopping complex needs to be constructed out side the temple where shops can be leased out for various purposes namely:
* Pooja material and prasadam.
* Religious Books, tourist Literature, Photos,etc.
* Shoes/chappal Counter.
* cafeteria.
1. A Small landscape garden needs to be developed near the main temple for improving the general look of the place and making it more attractive.
2. Public toilets are to be constructed for convenience of the public.
3. A Parking Place needs to be ear marked and leased out.
4. Forming ring road on tank bund to ease the Traffic flow.
Category: Historical Places, Warangal Temples
Comments (0)
Trackback URL | Comments RSS Feed
There are no comments yet. Why not be the first to speak your mind.