T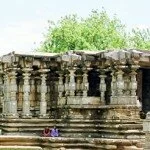 he primeval city of Warangal has its own share of ancient temples that dates back to centuries when it was the capital city of the Kakatiya Dynasty. Warangal Temples attract thousands of devotees and tourists towards its archeological, spiritual and historical importance. The city is also famous for its scenic lakes, wildlife sanctuaries and Warangal Fort. Some of the top ancient temples in Warangal include Ramappa Temple, Thousand Pillar Temple and Bhadra Kali Temple.
Ramappa Temple: Popularly known as Ramalingeswara Temple, Ramappa Temple is located about 50 km from Warangal. It is an archeological wonder and is considered at the "brightest star in the galaxy of medieval temples in the Deccan". It features fine, intricate carvings on the walls, pillars and ceilings. Thousands devotees and tourists come here for offering prayers and observing the beauty of the temple.
Thousand Pillar Temple: It is an architectural wonder and a fine example of Kakatiya structural design and sculpture. The ancient temple was built in 1163 AD by Rudra Deva in the manner of Chalukyan temples. As the name signifies, Thousand Pillar Temple features numerous pillars which are intricately carved. The perforated screens, rock cut elephants, and monolithic black basalt Nandi are fine examples of the rich architectural patterns followed in the bygone era.
Bhadara Kali Temple: It is another important temple located on a hill top between Hanamkonda and Warangal. The temple is renowned for the beautifully carved 2.7 meter tall stone image of the Goddess Kali. This temple also reflects the Chalukyan style of temple architecture.
Related posts:
Category: Historical Places, Warangal Temples
Comments (0)
Trackback URL | Comments RSS Feed
There are no comments yet. Why not be the first to speak your mind.