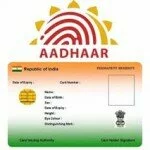 AADHAAR Card Status
Aadhaar is the brand name of Unique Identification Number (UID). UID is controlled by Unique Identification Authority of India (UIDAI).
To download Aadhar Enrolment form visit Aadhaar Enrolment Form.
People who have  enrolled for Aadhaar Card will be given printed acknowledgment form with an Enrollment Number, date and time, all your details with photo will be provided in that form,  but for checking the status online you need Enrollment Number, date and time.
How to check Aadhaar card status online
you can check your Aadhaar card application status online by visiting the Aadhaar card website Check your AADHAAR Card Status.
In Andhra Pradesh you can apply online or download Aadhaar Enrolment Form either in English or Telugu by visiting http://aadhaar.ap.gov.in.
Aadhaar card will have a 12 digit unique identification which is recognized all over India and it will be issued free of cost. If any person is demanding bribe (Demanding money) for Aadhaar card or for any complaint regarding Aadhaar card, report it via Consumer Online Complaint.
Depending on the enrollment agency,  people will be issued an Aadhaar card within 60 to 90 days. If it is over 3 months and still you don't get the card use Aadhaar helpline to get your card status. To know the status of your Aadhar card, call the toll free number 1800 180 1947. Bangalore.