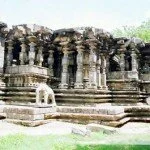 Warangal has many interesting places to see around. In its close proximity, there are numerous places of religious and archaic importance, which can make perfect excursions from the city. Striking watercourses, amidst lush green forests, add to the beauty of the landscape. It is for sure that once been there, you would like to visit them again and again. Amongst these nearby places, there are temples that date back to 12th and 13th centuries. Warangal, being influenced by Kakatiya rulers, has several structures in and around, which are worth-seeing. So, get ready to browse these tourist places near Warangal.
Thousand Pillar Temple
Thousand Pillar Temple, as the name suggests, has no less than thousand pillars. To be found near the Warangal-Hanumakonda Highway, this temple was built by the Kakatiya ruler, Rudradeva, in 1163 AD. Raised on a platform, this temple is about 10 km from the Warangal city of Andhra Pradesh.
Kolanupaka
During the 11th century, Kolanupaka had been the second capital town of Kalyani Chalukyas. In those times, it was a great centre of Jainism and Shaivism. According to the legends, 'Renukacharya' – a great 'Vira Saiva' saint, was born from a self-manifested lingam in this town. After preaching 'Vira Shaivism', he was again absorbed in the lingam. Here, you can see the museum, which has been established by the State Department of Archaeology and Museums. It has a sculptural gallery that displays artifacts collected from the various historical monuments in Kolanupaka.
Ramappa Temple
Located in Palampet village, about 70 km from Warangal, Ramappa Temple is also known as Ramalingeswara Temple. This colossal temple presents a remarkable sight with its superb architecture. Dating back to 1213 AD, Ramappa Temple portrays the grandeur and opulence of the Kakatiya kingdom. Interesting fact about this shrine is that it was named after its sculptor 'Ramappa', unlike other temples that get names after their presiding deities. Dedicated to Lord Shiva, the temple is encircled with innumerable date palm trees. Ramappa Lake, which dates back to the same period, still flows along side the temple.
Pakhal Lake
In the early 13th century, Pakhal Lake was assembled by using a small tributary of Krishna River. The initiative to construct this man made lake was taken by Ganapathidev, the Kakatiya king. Sprawled over an area of 30 sq km, the picturesque lake is located at a distance of 50 km from Warangal.
Sri Veeranarayana Temple
Built around 1104 AD, Sri Veeranarayana Temple is a typical specimen of Chalukyan style of architecture. It is sited at Hanumankonda, a town near Warangal city. From its structure, it appears that initially it must be a Jain temple and later converted to a Vaishnava place of worship.
Pakhal Wildlife Sanctuary
Next to Pakhal Lake, the sanctuary is sprawled over an area of 90 acres. Its vegetation comprises of tropical dry deciduous forests and teak forests. Many exotic species of plants and animals can be seen here. Located about 50 km from Warangal, the wildlife asylum has got captivating landscape.
Eturnagaram Sanctuary
Eturnagaram Sanctuary is sited at a distance of 90 km from Warangal. Known for embracing rare bird species, the haven has rich vegetation of teak trees. The setting appears enchanting amidst hills and springs. Tiger, Sloth Bear, Chinkara, Black Buck etc are some of the endangered animals found here.
Category: Historical Places, Tourist Places
Comments (0)
Trackback URL | Comments RSS Feed
There are no comments yet. Why not be the first to speak your mind.