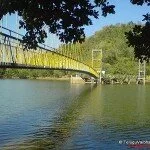 The green hills of this agency mandal lie side by side to form a massive bowl like structure which holds the spacious, beautiful and pristine lake popular known as 'Laknavaram Cheruvu'.
As one drives to the right after crossing Mulug, eight km into the thick forest, there lies this marvellous lake and picturesque hills around it with thick carpet like green cover.
Suspension bridge
Recently, the Department of Tourism constructed a suspension bridge across the lake joining the island which is an added attraction for tourists visiting this beautiful lake. The district administration had embarked on massive plans to convert it into a tourism spot and one could see personnel busy trimming the hills to lay roads around the lake. "This suspension bridge is first of its kind in State. In the next phase, it will be extended to join other islands in the lake. This is good spot which should be popularised," Joint Collector K. Srinivasa Raju said.
The lake was the discovery of ancient Kakatiya rulers. They spotted this excellent place amidst trees and green hills lined up around to hold the rainwater. The Kakatiya rulers only built a small sluice gate turning the place into a spacious lake which now feeds thousands of acres of agricultural land every year.
Of late, the district administration decided to convert it into a tourist spot but lack of coordination between the agencies hindered the progress of work. There is no approach road once after taking a turn from Mulugu and Govindaraopet road.
Donthu Ramesh, a visitor said he was enthralled by the serene atmosphere the Laknavaram lake offered. "I did not know that such a beautiful place existed in our district," he said.
G. Vijaya Kumar, who came from the district headquarters, said he was amazed at the natural environs of the lake.
"There is boat which is seen in Kerala and Kashmir. We friends enjoyed very much here. We will make another trip soon after the ongoing works are complete," he said.
This is the biggest lake in the warangal dist Andhra pradesh India. constructed by kakatiyas. It gives the water about 50,000 acers of paddy crop.
I have recently visited this place with my family and friends and we all were amazed to see such beautiful and natural sceneries which is just in 2 hours drive from Warangal city. We have been to many beach resorts in Thailand, Malaysia and Indonesia but this beautiful lake is fantastic with its own green colored water and beautiful hill tops gave us entirely different excitement. State tourism board has to still develop a lot to make it as one of the favorite picnic spots in AP.
People who are planning to go to Ramappa can also plan to visit this place as it is very nearby. From Warangal city, it is good plan to visit Laknavaram lake first and then visit Ramappa in your return journey.
Category: Historical Places, Tourist Places, Warangal Lakes