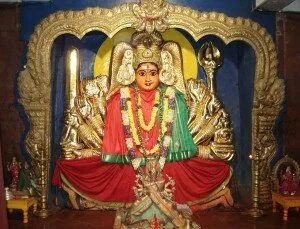 UTSAVAMS
Shakambari Navratri, nine festive nights dedicated to Shakambari devi, is observed in Ashada masam at Bhadrakali Temple in Hanamkonda (Warangal), Andhra Pradesh. Bhadrakali Ammavaru at Hanamkonda is a Shakti Peetha, dedicated to Mother Goddess. Goddess Bhadrakali is the ferocious form of Goddess Shakti. Bhadra kali is the consort of Lord Veerabhadreshwara Swamy. Bhadrakali is worshipped as the main deity in Telangana region of Andhra Pradesh.
The best time to visit Bhadrakali Temple at Hanamkonda is obviously Ashada masa Navratri during which Ammavaru is decorated and worshipped in the form of Shakambari. Shakambari devi is one of the manifestations of Goddess who bears vegetables and fruits as her clothes and ornaments.
Utsavalu (Main Festivals) in Bhadrakali Temple:
In Bhadrakali Temple, the main festivities are – Vasantotsavam or Vasanta Navaratri in Chaitra masam, Shakambari Navaratri in Ashada masam, Maha Sharan Navaratri or Durga Devi Navratri in Ashwayuja masam and Maghi Utsavalu or Magha Navratri in Magha masam. In Chaitra masam, Bhadrakali Brahmotsavalu is also held.
Bhadrakali Ammavaru – Deity of Kakatiya Dynasty:
Bhadrakali Ammavaru is also worshipped as 'Kakathamma', the deity of Kakatiya dynasty. Warangal also called as Orugallu was the capital city of Kakatiya dynasty. Every detail about Bhadrakali Mata was scriptured in 'Siddeshwara Charithramu' and 'Pratapa Rudreeyam'. As a commemoration of his victory against Vengi Chalukyas, West Chalukya King, Pulakesi-II constructed the Badrakali temple in the year 625 AD.
Category: Historical Places, Warangal Temples
Comments (0)
Trackback URL | Comments RSS Feed
There are no comments yet. Why not be the first to speak your mind.