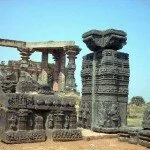 The ancient Warangal Fort was constructed during the regime of the Kakatiya rulers in the 13th century. It is a fine example of the architectural brilliance of the bygone era. Located to the south-east of Warangal city, the majestic fort bears testimony of the dexterity of artists of earlier times. The construction of the fort was started by the Kakatiya King Ganapati Deva in 1199 AD and his daughter, Rani Rudrama Devi made further efforts till the construction work of the fort was completed in 1261 AD.
As-of-now the fort remains in complete ruins but still attracts thousands of tourists and historians from India and abroad. At the entrance of the fort are four Sanchi style gateways and mammoth towers measuring 50 feet. The most astonishing feature about the four pillars at the gateway is they have been cut from a single piece of rock. Tourists get to see ruins scattered all along the fort like delicate stone carved structures, motifs and beautifully crafted designs depicting animals like lions and swans. Warangal Fort is a top tourist attraction of Andhra Pradesh and one of the most iconic historical landmarks in India. Tourists interested in knowing about the ancient culture, history, architecture and sculptors of India will definitely get to learn a lot on their trip to Warangal Fort.
Related posts:
Category: Historical Places, Warangal Forts
Comments (0)
Trackback URL | Comments RSS Feed
There are no comments yet. Why not be the first to speak your mind.