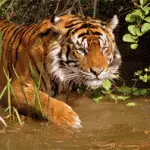 Eturnagaram Sanctuary, regarded as one of the oldest sanctuaries of India is located in the Warangal district of Andhra Pradesh. It lies about 250 km from Hyderabad and encompasses a rambling area of 806 sq. km. The area of the sanctuary features rising and falling land surface and on some parts is covered with hills. The thick cover of natural vegetation along with rolling surfaces provides suitable grounds for evolving of flora and fauna. The permanent Dayyam Vagu River flowing through the sanctuary is its main lifeline supplying water to the dense vegetation and the wild animals.
Eturnagaram Sanctuary is home to wide variety of reptiles, carnivorous and other animals such as Mugger Crocodiles, Python, Cobra, Krait, Tiger, Panther, Leopard, Wolf, Jackals, Sloth Bears, Black Buck, Chousingha, Nilgai, Sambar, Wild Dogs, Spotted Deer and Chinkara. The tropical dry deciduous type of vegetation of the region provides favorable grounds for the growth of trees like Teak, Bamboo, Madhuca and Terminalia.
Wildlife buffs make it a point to come here and enjoy wide ranging wildlife attractions at Eturnagaram Sanctuary. The best way of exploring the vast flora and fauna of this place is to undertake an Eturnagaram Sanctuary Safari Tour. The tour provides best opportunities to visitors in getting up-close to nature and natural habitat of the animals. The best time to visit is from October to April. The nearest airport is at Hyderabad while regular busses are available from Warangal which is 110 km from the sanctuary.
Category: Historical Places, Tourist Places, Warangal Wildlife
Comments (0)
Trackback URL | Comments RSS Feed
There are no comments yet. Why not be the first to speak your mind.