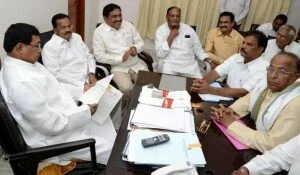 Telangana Telugu Desam and Congress MLAs may not rush through their resignations this time round till they get a firm assurance from Telangana Rashtra Samiti (TRS) on avoiding mutual contests if by-elections become inevitable.
Rare gesture
Sources said it was with this proposal, among others, that a big delegation of Telangana TDP Forum MLAs took the rare step of approaching a political adversary, Panchayat Raj Minister K. Jana Reddy, here on Tuesday. Unlike last time, when they were the first to submit their resignations, there was concern among TDP MLAs now over their re-election in the event of TRS putting up candidates.
The TD MLAs delegation led by Erabelli Dayakar Rao was believed to have impressed upon Mr. Jana Reddy to convince all legislators in Telangana to join in en masse resignations simultaneously again that could trigger constitutional and political crisis and build pressure on the Centre. At a press conference later, Mr. Rao said the focus was on working unitedly for Telangana keeping aside party's flag and agenda, if necessary. He said Telangana JAC's disposition to work only with TRS and avoid both TDP and Congress was also discussed. It was for the sake of separate Telangana that the delegation had stepped into Mr. Jana Reddy's house. The Minister understood the issue and promised to work for bringing all political parties onto a single platform and for simultaneous resignations.
Mr. Jana Reddy told the delegation that he would discuss the proposals made by them with his colleagues.
Kodandaram warned
For the second consecutive day, Mr. Rao and another MLA, Motkupalli Narsimhulu, targeted TJAC chairman M. Kodandaram for using inappropriate language against the elected representatives. Mr. Narsimhulu threatened to move privilege motion and lodge complaint under SC/ST Prevention of Atrocities Act, if Prof. Kodandaram fails to withdraw his comments.
Source from Hindu
Category: Latest News, News, News, Telangana
Comments (0)
Trackback URL | Comments RSS Feed
There are no comments yet. Why not be the first to speak your mind.