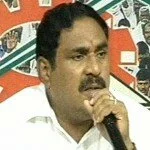 Reiterating that the Telugu Desam Party legislators from Telangana were willing to quit from their posts, TDP Telangana Forum Convener Errabelli Dayakar Rao criticized the TJAC Chairman Prof M Kodanandaram for not taking all parties into confidence. Errabelli said Prof Kodandaram has no moral right to seek their resignations. "He is acting like an agent of was acting like an agent of Telangana Rashtra Samiti president K Chandrasekhar Rao and trying to dominate leaders of other political parties," he alleged.
The TDP leader asked why Prof Kodandaram was not seeking resignation of KCR and Telangana Congress ministers for the statehood and targeting only TDP members. He said due to Kodandaram's discriminatory attitude, several leading politicians from the region are disassociating themselves from the TPJAC.
Errabelli said formation of Telangana was possible only through creation of constitution crisis and the TDP members from the region were ready to sacrifice their posts for separate Telangana.
Responding to TJAC demand of submitting resignation afresh for the Telangana state, senior TDP leader Kadiam Srihari said the TDP members would take a decision on August 22 after discussing the matter with Rajya Sabha member K Kesava Rao, K Jana Reddy and Basavaraj Saraiah.
Source from Hyderabad daily news
Related posts:
Category: City News, News, State News
Comments (0)
Trackback URL | Comments RSS Feed
There are no comments yet. Why not be the first to speak your mind.