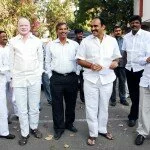 Here is the initial list of MLAs of Andhra Pradesh who are supporting Y.S. Jagan Mohan Reddy out rightly in his efforts to become Chief Minister of Andhra Pradesh. Most of the followers / supporters are first term / second term MLAs and former ministers and the dissidents of the Congress Party. Interestingly, Y.S. Jagan has support of 4 or 5 MLAs from Praja Rajyam Party and 2 MLAs of Telugu Desam Party. But, we need to see how long the momentum will sustain as the group has been claiming that they are not going to topple the Kiran Kumar Reddy's government.
Though the following list is based on the open expression of those leaders and their participation in recent Lakshya Deeksha in Vijayawada, Jala Deeksha in New Delhi and Jana Deeksha in Visakhapatnam, there may be additions and deletions in the day to come as the Congress is trying its best to pacify the MLAs. Apart from MLAs, there are 4 or 5 MPs who can openly support Y.S. Jagan at the moment. But the final balance sheet will be out only after the announcement of political party (YSR Party / Rajanna Rajyam) by Y.S. Jagan. Here is the list of district wise supporters of Y.S. Jagan:
Prakasam District:
1. Balineni Srinivasa Reddy (Ongole)
2. Buchepalli Siva Prasad Reddy (Darsi)
Warangal District:
1. Konda Surekha (Parakala)
Kadapa District:
1. K. Srinivasulu (Railway Kodoor)
2. Srikanth Reddy (Rayachoti)
3. Kamalamma (Badwel)
4. Amaranath Reddy (Rajampeta)
5. Adinarayana Reddy (Jammalamadugu)
6. Y.S. Vijayalakshmi (Though resigned along with her son, Y.S. Jagan, it is certain that the Pulivendula seat could be retained by YS Jagan's party.)
Kurnool District:
1. Shobha Nagi Reddy (Allagadda)
2. Shilpa Mohan Reddy (Nandyal)
3. Katasani Ram Bhupal Reddy (Panyam)
Hyderabad District:
1. Jayasudha (Secunderabad)
2. D. Sudheer Reddy (LB Nagar)
3. Bikshapati Yadav (Seri Lingampalli)
4. Srisailam Goud (Kutbullapur)
5. Raji Reddy (Uppal)
West Godavari District:
1. Aalla Nani (Eluru)
2. Maddala Rajesh (Chintalapudi)
3. Mudunooru Prasad (Narasapuram)
4. Anjibabu (Bheemavaram)
East Godavari District:
1. Rapaka Varaprasad (Rajolu)
2. Raja Ashokbabu (Tuni)
3. Thota Narasimham (Jaggampeta)
4. Dwarampoodi Chandrasekhara Reddy (Kakinada)
5. Pilli Subhash Chandrabose (Ramachandrapuram)
6. Ponnada Sateeshkumar (Mummadivaram)
7. Pinipe Viswaroop (Amalapuram)
8. Sesha Reddy (Anaparthy)
Nellore District :
1. Mekapati Chandrasekhar Reddy (Udayagiri)
2. N. Prasannakumar Reddy (Kovooru -TDP)
Anantapuram District:
1. Gurunath Reddy (Anantapuram)
2. Ramachandra Reddy (Rayadurgam)
MPs supporting Y.S. Jagan Mohan Reddy:
1. Sabbam Hari (Anakapalle)
2. Mekapati Rajamohan Reddy (Nellore)
3. Anantha Venkatarami Reddy (Ananthapuram)
MLCs Supporting Y.S. Jagan:
1. Pulla Padmavathi
2. Jupudi Prabhakar Rao
Source from HelloAP
No related posts.
Comments (0)
Trackback URL | Comments RSS Feed
There are no comments yet. Why not be the first to speak your mind.