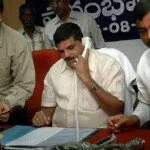 Pradesh Congress Committee president Botsa Satyanarayana on Sunday asked his partymen not to fall into the trap of YSR Congress party president Jagan Mohan Reddy, who is presently facing an investigation by the CBI for allegedly amassing illegal wealth.
Talking to media persons at Gandhi Bhavan, the PCC chief said the letter written by widow of former chief minister YSR was nothing but an attempt to divert people's attention from the CBI raids. He said the family members of Jagan were making frivolous statements out of desperation due to the on-going CBI raids at Jagan's offices and residence. He asked as to why Jaganmohan Reddy was afraid of CBI probe if he was not involved in any corrupt deals. He said Pulivendula MLA YS Vijayamma letters clearly hint that Jagan wants to escape from the CBI probe.
Botsa said the MLAs who were supporting Jagan should be careful in saving their image as supporting a person facing corruption charges would tarnish their image, besides bringing disrepute to the party. He said the popularity of an individual was not the criteria to stop CBI probe against Jagan and the law would take its course of action.
Responding to allegations that the government has not ordered CBI probe into Volkswagen scam against him, the PCC chief said the CBI has given him a clean chit after the completion of probe. Responding to Jagan group MLAs threatening with resignations, he said the government would not fall into minority despite their resignations and there was no danger to the government.
He said the people of state voted the Congress party for second time seeing its performance and based on the policies adopted by the government for the welfare of poor and downtrodden. Replying to a question that former chief minister YSR name figured in CBI's First Information Report, he said the CBI has to yet to submit its comprehensive report to the high court. (INN)
Source from BharathWaves
Related posts:
Category: City News, News, State News, Top News
Comments (0)
Trackback URL | Comments RSS Feed
There are no comments yet. Why not be the first to speak your mind.