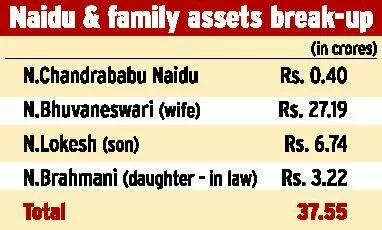 In a move to force the hand of his opponents, TDP president N Chandrababu Naidu on Friday declared his and his families assets that stand at Rs 39.88 crore. This includes about Rs 40 lakh of his assets and the remaining being that of his wife Bhuvaneshwari, son Lokesh and daughter-in-law Brahmani.
According to Naidu, he had spent Rs 23 lakh in constructing the Jubilee Hills residence, a piece of land in Chittoor and his Ambassador car account for the reminder of his Rs 40 lakh assets. Naidu dared his rivals to point out any other assets belonging to him and vowed to write it off to them if the same can be proved.
Of the total family assets of Rs 39.88 cr, the lion's share belong to his wife and daughter of NTR, Bhuvaneswari. She has investments worth Rs 19.95 cr in Heritage Foods, Rs 13.77 cr in Nirvana Holdings and Rs 98 lakh in Heritage Agro-Marine Pvt Ltd. Naidu's son Lokesh has assets of Rs.6.73 crore including an 8.4 acre land in Maharashtra, a 3.17 acre piece of land in Hubli, Karnataka, and investments worth Rs 2.52 crore in different listed companies. Daughter-in-law Brahmani has a total of Rs 3.22 crore assets that includes an advance of Rs 1.15 cr given for a plot in Emaar Hills Township Pvt Ltd which is now under the CBI scanner. Naidu's family holds a stake of little over 48.2 per cent in Heritage Foods, which is said to be worth more than Rs 250 crore as per market capitalization of the company.
Interestingly, Naidu and his family had declared Rs 68 crore assets in the 2009 election affidavit and Rs 21 crore before the 2004 assembly polls. Naidu said the value of the assets of the family declared by him on Friday was at the time of the investment. He clarified that he is not giving the present market value of the assets as it keeps fluctuating.
Naidu said he has a house in his name, the value of which at the time of construction was Rs.23.2 lakh. He raised a loan from Vijaya Bank for this and that the house is still under mortgage as he is still repaying the EMIs.
His wife Bhuvaneswari owns a building spread over 650 square yards of land at Punjagutta and another five acre of cultivable land at Madinaguda in Serilingampally on the outskirts of Hyderabad.
"I am setting a new trend in politics. In fact it was the Telugu Desam Party which had started the assets declaration in 1999. It was only in 2003 that the same was included in the Representation of the People's Act.
We have been submitting details of our assets every five years. Now, I have made public the assets of all my family members as well. I hope that the other politicians will follow this model," the TDP chief said.
Reacting to allegations that Naidu owns a hotel in Singapore and a township in Malaysia, the TDP chief said if anybody can prove the same, he would hand over the same assets to them for free.
He also claimed that the property in Nellore district that is on the name of his brother-in-law K Chandrababu, is being wrongly reported as belonging to him in a section of the media.
Source from Times of India
No related posts.
Category: Latest News, Top News
Comments (0)
Trackback URL | Comments RSS Feed
There are no comments yet. Why not be the first to speak your mind.