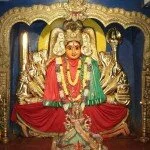 This temple is dedicated to Goddess Bhadrakali, the Giant moyher Goddess, with fierce looking eyes and face. The Diety is believed to be worshipped bt the Historic ruler pulakesin-II of Chalukya Dynasty in the year 625 A.D. after his win over the 'Vengi' region of Andhra Desha. The minister of Kakatiya Ganapathy Deva namely 'Hari' has constructed the tank and road to the temple. Every tourist to Warangal will certainly make a visit to this historical temple to have the blessings of the Mother Goddess.
Architecture: The temple is square shaped with a stone image of the goddess (2.7 x 2.7 meters). The image is seated with a fierce look in her eyes and on her face. The goddess wears a crown and has eight handsholding various weapons.There is an artificial lake of two and half km radius close to the temple.Natural rock formations add to the charm of the temple and are the dominant feature of the temple. These rocks are said to carry spiritual powers too. The temple is around 250 years old.The image transforms into a rare form called Tripura Sundari with the help of mantras, which includes the Kali form. Tripura Sundari is regarded as the supreme manifestation of Prakriti – the feminine power a vital energy of the universe. Literal meaning is The Beauty of Three Worlds.
Festivals: is held in the month of Sravana – August-September. The deity is aesthetically decorated.There are eight major and twelve minor temples in the mountains surrounding the Bhadrakali Temple.
Related posts:
Category: Historical Places, Warangal Temples