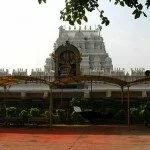 Bhadrakali Temple Set on a hilltop between Hanumakonda and Warangal, the Bhadrakali temple is noted for its stone image of the Goddess Kali. She is depicted with eight arms and carries a weapon in each hand. Bhadrakali Cheruvu is adjacent to this temple.
Related posts:
Category: Historical Places, Warangal Temples
Comments (0)
Trackback URL | Comments RSS Feed
There are no comments yet. Why not be the first to speak your mind.