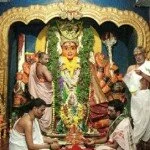 The best time to visit the famous Bhadrakali Temple in Warangal is the Telegu month of 'Sravana' which corresponds to the month of August – September according to Gregorian Calendar. At this time a festival is organised and the deity is aesthetically decorated in various forms. Housing about 8 major and 12 minor temples surrounding mountains of Bhadrakali Temple exude a sacred aura when a large number of devotees gather to offer prayers.
People who visit Bhadrakali Temple also visit Hanamkonda Fort which is just a kilometer away from the another well known thousand pillared Hanamkonda Temple. Inside the fort is the Siddeshwara Temple housing a small Linga shrine.
Category: Historical Places, Warangal Temples
Comments (0)
Trackback URL | Comments RSS Feed
There are no comments yet. Why not be the first to speak your mind.