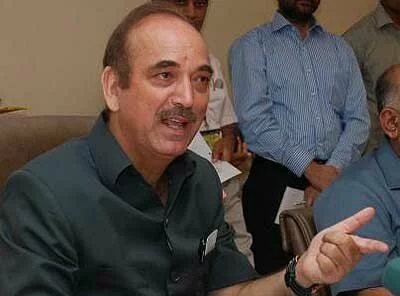 Calling upon government employees to resume their duties in larger interest of the public, Union health minister and incharge of Congress affairs in Andhra Pradesh Ghulam Nabi Azad on Sunday said more consultations at national level were necessary to resolve the contentious separate Telangana state issue.
Azad, who was on his way to attend a function at Yerragondapalem in Prakasam district, told media at Shamshabad airport that the central leadership was aware of the situation in the state. "All state-level consultations are done. More consultations at the national level are necessary to resolve the Telangana issue. But we will try to settle this issue as soon as possible. I can only tell you that we are also conscious of the situation. We want to settle this impasse as soon as possible. I will not be able to tell you the exact date. It will take a little time. A lot of people are suffering because of the strike. The strike has led to electricity shortage and hardships to farmers. Labourers are hit hard as they are not getting work. I request all striking employees to resume their duties in pubic interest," he said.
Meanwhile, Telangana region continued to suffer for the 20th consecutive day because of the Sakala Janula Samme. Public transport remained shut in the region causing hardships to commuters in districts. Striking RTC employees said they would intensify the agitation in protest against the indifferent attitude of the Centre to the issue.
source from timesofindia
Related posts:
All eyes on Ghulam Nabi Azad's Telangana report
Comments (0)
Trackback URL | Comments RSS Feed
There are no comments yet. Why not be the first to speak your mind.