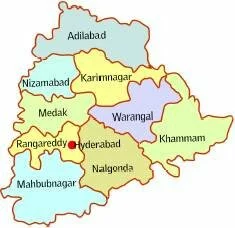 As the general strike in support of a separate Telangana state enters its 18th day today, Congress central leadership is meeting some of its leaders from the region to find a solution to the crisis.
Last evening, senior Congress leader Pranab Mukherjee met some Telangana Congress MPs who are camping in Delhi and have refused to return to Hyderabad till there is a definite word from the UPA leadership on formation of Telangana.
Mr Mukherjee is said to have assured the delegation that he will take up the issue with the Prime Minister and the Congress president on priority basis. The leaders are likely to meet the PM and President today itself. Congress in charge of Andhra Pradesh, Ghulam Nabi Azad, is expected to submit an internal report on Telangana crisis to the party in a day or two.
Meanwhile, the Telangana Joint Action Committee has called a bandh in Hyderabad today.  Protesters have now shifted their focus on putting pressure on elected representatives and ministers in the Congress government to resign. For this, the protesters are gheraoing their homes and not allowing them to move around freely in the Telangana region.
Labour Minister Danam Nagender faced the ire of the protesters yesterday as the members of the Telangana Joint Action Committee sat outside his residence in Hyderabad.
"We demand that Danam Nagender must immediately resign from his post," said a protester.
"They have no right to ask for my resignation or that of any other Congress leader. Minister Komti Reddy resigned but people still threw chappals on him. What is their fate if this is how resigned MLAs and ministers are treated," said Mr Nagender.
These activists also surrounded the homes of many other Congress elected representatives in several Telangana districts.
"If our Congress leaders were good, then by now a Bill on Telangana would have been presented in Parliament and Telangana state would have been formed," said another protester.
This is being seen as an attempt by TRS-led pro-Telangana groups to pressurise the elected representatives asking them to resign and join the strike or face the ire of the people.
"It is a demand by the people of Telangana, not KCR alone. It is a popular demand that all Telangana public representatives must resign, so that the Centre is moved and the issue is solved," TRS president K Chandrasekhar Rao said on Thursday.
Source from NDTV
Related posts:
Comments (0)
Trackback URL | Comments RSS Feed
There are no comments yet. Why not be the first to speak your mind.