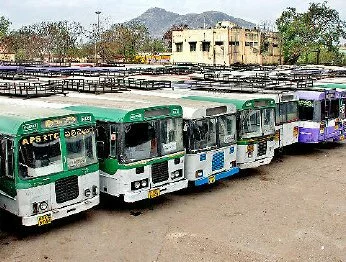 Employees of the AP State Road Transport Corporation (APSRTC) in the Telangana region would join the Sakala Jannula Samme from Sunday midnight.
Nearly 10,000 out of the APSRTC's total bus fleet of 22,000 ply in the region now, providing 45 per cent of the 1.4 crore RTC's daily commuters in the State. With a view to pre-empting the strike, the government had brought the APSRTC services under the Essential Services Maintenance Act on July 7, banning any strike for a period of six months. But, the employees have decided to go on strike as they feel its their responsibility to take part in the strike for formation of Telangana.
An order issued under the Motor Vehicles Act a day ahead of the strike, authorised the secretaries of the regional transport authorities (RTAs) to issue permits for plying contract carriages to ensure uninterrupted transport service if the APSRTC withdrew its fleet in Telangana. The government expects the strike, being organised by Telangana Forum, an outfit of the National Mazdoor Union, to be total.
No related posts.
Comments (0)
Trackback URL | Comments RSS Feed
There are no comments yet. Why not be the first to speak your mind.