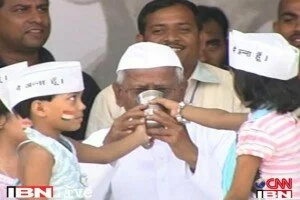 Anti-corruption crusader Anna Hazare broke his fast on the 13th day at the Ramlila Maidan in Delhi as huge crowds witnessed and celebrated the victory of people's power. Anna ended his fast after Parliament adopted the Sense of the House resolution on his three key points on Saturday.
Two five-year old girls from Delhi offered coconut water and honey to Anna Hazare.
After breaking his fast, Anna thanked the people for their support. "I thank the countrymen, my brothers, sisters and kids for the fight against corruption," Anna said.
Anna said that this was also a victory for media and thanked the media for waking up to the movement.
The Gandhian also called for changes in the electoral system.
He also thanked Dr Naresh Trehan and the civil society members for their support.
Anna skipped his visit to Rajghat due to health concerns. He is admitted in Medanta Medicity Hospital in Gurgaon for two to three days where he will undergo medical check-ups. Dr Naresh Trehan issued a statement saying that a detailed report on Anna's health will be issued on Monday. Dr Trehan also said that Anna's BP and heart rate are normal but he is very dehydrated.
In the end it was a win-win situation for both sides. After a nine-hour long debate in Parliament on Saturday, the government stuck to its stand and did not go for a voice vote. The resolution on Lokpal was passed by a thumping of desk unanimously, but the real test begins with the government having promised to pass the Lokpal Bill soon.
Even as Anna broke his fast, he made it clear that the fight will continue as the battle is only half won.
Earlier, Team Anna member Arvind Kejriwal thanked the Prime Minister and Parliamentarians for agreeing to their demands.
Celebrations broke out across the nations as Anna broke his fast. There were festivities at Anna's village Ralegaon Siddhi as people there distributed sweets and decorated their houses.
Source from IBN Live
No related posts.
Category: Top News
Comments (2)
Trackback URL | Comments RSS Feed