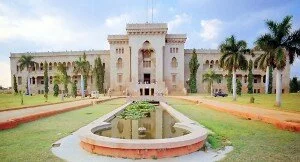 The students JAC of Telangana expressed complete support for the Hyderabad bandh on Sept 30. The Osmania University Students JAC meeting held here today.
The student leaders said that as part of the Sakala Janula Samme the OU JAC called for a bandh by all educational institutions on Sept 30. They also called for an attack on buses run by the private operators.
Related posts:
TNGOs serve strike notice – The Telangana Employees Joint Action Committee (JAC) leaders decided to go on strike from Sept 13.
Students Making shape 'green' Ganeshas in hyderbaad
Comments (0)
Trackback URL | Comments RSS Feed
There are no comments yet. Why not be the first to speak your mind.