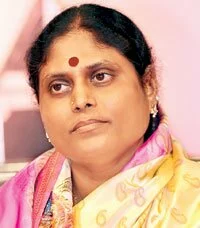 Former Andhra Pradesh chief minister Y.S. Rajasekhara Reddy's widow Y.S. Vijayalaxmi Monday filed a public interest litigation in the state high court seeking a probe by the Central Bureau of Investigation (CBI) into the assets of former chief minister and Telugu Desam Party (TDP) chief N. Chandrababu Naidu.
Vijayalaxmi's move is being seen as a counter to the suits filed by TDP leaders against her son Y.S. Jaganmohan Reddy.
The high court in August ordered a CBI probe into the assets of Jaganmohan Reddy, MP and leader of YSR Congress party, on petitions filed by TDP and Congress leaders.
Vijayalaxmi, who is also a member of assembly, filed a 2,424-page petition in court describing as false the assets declared by Naidu last month. She sought a comprehensive probe by the CBI into the nine-year stint of the TDP chief as the chief minister.
YSR's widow alleged that Naidu owned assets worth thousands of crores of rupees in both India and abroad. She claimed that he amassed huge wealth from 1995 to 2004 when he was the chief minister.
She wondered how Naidu earned such huge assets when he had only two acres of land before becoming the chief minister.
The leader of YSR Congress party submitted several documents along with the petition.
She also named individuals and organisations which allegedly received favours from Naidu when he was the chief minister.
Reacting to the development, the TDP said the Congress government ordered many inquiries against Naidu but found nothing. TDP leaders termed as baseless all allegations made in the petition.
Related posts:
Chandrababu Naidu listed only the acquisition value — not the current market value
CM is bribing MLAs : 'Let there be CBI probe, I will present evidence' by KTR
Congress central leadership might prefer a Rayala Telangana state to keep the Telugu Desam chief, N. Chandrababu Naidu, and the YSR Congress president, Y.S. Jagan Mohan Reddy, away from the region.
Comments (0)
Trackback URL | Comments RSS Feed
There are no comments yet. Why not be the first to speak your mind.