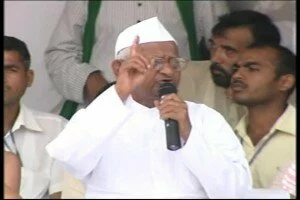 Anti-corruption activist Anna Hazare on Sunday said that the fight against corruption will continue till the time there is a change in the system. Anna thanked people for their support after breaking his fast with coconut water and honey.
Anna also saluted people and said that it was the people power that made Parliament take a decision on Jan Lokpal. "The right democracy is when the power comes in people's hands," Anna said.
Anna also congratulated the media, thanking them for making the victory possible and making the anti-corruption movement a big success.
Anna also laid stress on education for the poor and environment pollution, saying these are areas that need attention.
He also asserted the need for the people to change their mindsets to curb corruption. "Only putting 'I am Anna' on a cap will not make you Anna. Change the way you live, live a stainless life, keep pure thoughts, learn to love and learn to tolerate. Jai Hind, Jai Bharat," Anna said.
No related posts.
Category: Latest News, Top News
Comments (0)
Trackback URL | Comments RSS Feed
There are no comments yet. Why not be the first to speak your mind.