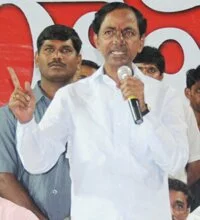 Telangana will burn if any attempt is made to alienate Hyderabad, warned the TRS chief, Mr K.Chandrasekhar Rao, on Thursday.
"We don't mind having a joint capital for three to five years till Seemandhra leaders establish their own capital. They can use our Assembly, Secretariat and other infrastructure. Once they have their own capital, we will part ways," Chandrasekhar Rao remarked.
He launched a scathing attack on Mr N. Chandrababu Naidu for stalling the Telangana process and also said that the latter has no option but to give a letter to Central government, supporting Telangana in view of the unprecedented popular movement, for statehood, or his party would be wiped out from the region.
Welcoming the TD MLA, Gampa Goverdhan into the party, Mr Chandrasekhar Rao dismissed the TD demand to boycott the Banswada bypolls and alluded to previous bypolls in which the TD and Congress candidates lost deposits,.
"Why did they contest the previous bypolls to 12 Assembly seats? They ran away from submitting resignations while the TRS and BJP alone did it. People taught them a fitting lesson," he said.
In another development, the CPI leader, Mr K. Narayana rejected Rayala-Telangana state floated by some leaders saying such a proposal was idiotic.
"Why Rayala Telangana with Anantapur and Kurnool districts? Is it because they don't want Chittoor and Kadapa since Mr Chandrababu Naidu and Mr Y.S. Jagan Mohan Reddy are there? It's a senseless concept," he said.
"TD leaders, who have no guts to get a letter from Mr Naidu, are playing a drama over bypolls." Mr Rao said.
Mr Chandrasekhar Rao exuded confidence that Telangana will be achieved.
source from DC
Related posts:
Comments (0)
Trackback URL | Comments RSS Feed
There are no comments yet. Why not be the first to speak your mind.