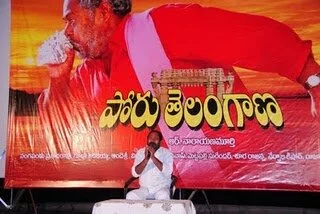 Another movie on the struggle for Telangana was released on Friday and firebrand filmmaker R Narayanamurthy did not spare even governor E S L Narasimhan for a tongue-lashing in the film. "It is a pity that even the governor remarked that December 31 would only be followed by January 1 and nothing more," Narayanamurthy says in one of his fiery dialogues in the movie.
It may be mentioned here that TRS leader K Chandrasekhar Rao had warned of serious action after December 31, 2010 if the Centre did not agree for a separate Telangana state. Following this, governor Narasimhan had remarked at a function that nothing would really happen except December 31 followed by January 1.
The movie depicts Congress leaders' non-seriousness in pursuing the cause of Telangana and ultimately in the climax scene, they are being chased away by public and beaten up. Though TDP leader N Chandrababu Naidu's name is not taken, Narayanamurthy takes a dig at the 'leader of the opposition' for taking two different stands on the issue.
What is interesting about 'Poru Telangana' is that Narayanamurthy, who does not hail from the region, is strongly in favour of a separate state. Narayanamurthy hails from East Godavari district and has also roped in Kota Srinivasa Rao, who also hails from the Andhra region to play a prominent role in the film. It may be mentioned here that earlier this year, another film on the Telangana struggle titled 'Jai Bolo Telangana' directed by N Shankar was released. R Narayanamurthy who has produced more than 20 films with revolution as the subject. What, however, is baffling is how the censors cleared the movie because the main focus is on glorifying the suicides that have taken place for the cause of Telangana.
As if to give an impression that the film does not glorify suicides, it is only towards the end of one of the songs that Narayamurthy makes a plea against anyone committing suicide and making their parents sad. The incident of Srikanth Chary setting himself ablaze at L B Nagar crossesroads gets prominence in the film like other incidents of the suicide of a student on the Osmania University campus, of a police constable, of a girl who is unable to pay her college fee and others.
TRS leader K Chandrasekhar Rao makes his appearance in the film but it is in the form of footage from a public meeting he addressed where he declared his intentions to go on a fast for Telangana. Chandrasekhar Rao and other TRS leaders watched the film released with much fanfare at a theatre at RTC crossroads. Narayanamurthy, who produced, directed and played the lead role in the film had a tough time with the crowds who mobbed him when he came out of the theater.
Related posts:
Telangana T-News Live, online teangana live tv, t news for telangana tv channel, telangana tv channel
Chiranjeevi Upcoming movie with Shankar – Bharateeyudu 2 ?
Comments (0)
Trackback URL | Comments RSS Feed
There are no comments yet. Why not be the first to speak your mind.