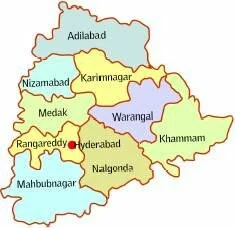 MLAs and workers belonging to the Telugu Desam Party were arrested by the city police while trying to enter the state Secretariat in Hyderabad on Tuesday.
Expressing their support for the general strike call given by employees' unions across the Telangana region, a group of TDP leaders and workers, led by TDP Telangana Forum convener Errabelli Dayakar Rao, initially tried to enter the premise of the State Secretariat.
When the police prevented from doing so, they staged a dharna in front of the Secretariat's main gate, shouting 'Jai Telangana' slogans.
However, due to the heavy presence of police forces, their attempt was foiled. All protesters, including Errabelli Dayakar Rao, M Narasimhulu, Kadiyam Srihari and Ravula Chandrasekhar Reddy, were immediately taken into custody and shifted to a nearby police station.
The TDP leaders demanded that the Centre introduce a Bill for Telangana in Parliament. Talking to reporters, Errabelli said that the TDP Telangana Forum has extended total support the general strike. He also warned the state government of serious consequences if it suppresses the strike.
Related posts:
Anna Hazare arrested, taken to unknown location
No force on earth can stop the formation of Telangana state. This was stated by the top Telangana leaders while addressing a massive public meeting here at SRR College Grounds on Monday evening.
Comments (0)
Trackback URL | Comments RSS Feed
There are no comments yet. Why not be the first to speak your mind.