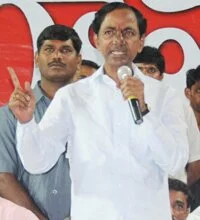 No force on earth can stop the formation of Telangana state. This was stated by the top Telangana leaders while addressing a massive public meeting here at SRR College Grounds on Monday evening.
Addressing the gathering called as 'Jana Garjana' Telangana Rashtra Samithi president K Chandrasekhar Rao said that the Telangana would be a reality at any cost. "I will prefer severing my head, than taking a step back on the Telangana," he said. KCR clarified that the general strike starting from Tuesday was not confined to government employees, but all sections of the region would participate vigorously demanding statehood for the region. KCR warned the State Government of dire consequences if it tries to suppress the agitation. He said even the imposition of Essential Services Maintenance Act would not hamper the general strike.
Regarding Banswada by-elections, KCR claimed that no other party except the TRS would secure their deposits. "It would be a repeat of what happened in Karimnagar and other seats in the Telangana region during by-elections," he claimed. He warned the Seemandhra leaders, particularly K Sambasiva Rao, Raypati Sambasiva Rao and TG Venkatesh, to be careful when they speak against the Telangana or its people.
Telangana Political Joint Action Committee chairman Prof M Kodandaram said that the government employees who would be participating in the general strike need not fear about the consequences from the State Government as they would get complete backing from all the Telaganana parties. He said that the entire administration would be brought to a halt during the general strike. Stating that there would be lot of obstacles during the strike, he asked the employees to overcome them with courage and confidence that their acts would ensure statehood for Telangana. "If your agitation is strong enough, then the Centre itself would announce Telangana," he said.
The meeting was also addressed by BJP leaders Bandaru Dattatreyya and Vidyasagar Rao, CPI – ML (New Democracy) leader Suryam and Employees JAC chairman Swamy Goud among others. Although Telangana leaders from all political parties supported the public meeting and general strike, but leaders of Congress, TDP and even its breakaway group led by Nagam Janardhan Reddy abstained from the meeting.
source from Gr8Telangana
Related posts:
Comments (0)
Trackback URL | Comments RSS Feed
There are no comments yet. Why not be the first to speak your mind.