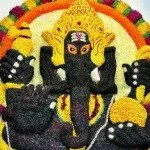 Now a days all the media channels, government, private companies are supporting 'Go Green' campaign every where to help the future generations. As we all know, how many statues are putting across all over India on the occasion of Ganesh Chaturthi (Vinayaka Chavithi). These idols are made with different types of chemicals which will effect our health, climate and polluting the water where ever the Ganesh Idols Nimazzanam happend. Read more news about -
Ganesha is the lord of power and wisdom. He is worshipped first before any auspicious work. Kids know him better since he is also referred to as the 'Elephant God'. Now, the Ganesha Chaturthi is just round the corner and here is my attempt to spread the awareness on 'Going Green' about the way we celebrate this festival. What do I mean by Project Green Ganesha? Read further to know what it is and how you can help.
Ganesha goes GREENMajority of the people who celebrate Ganesha festival bring home the 'painted' idols made of clay or plaster of paris (PoP) and perform rituals with devotion. The festival concludes with 'Ganesh Visarjan', a process of immersing the idol in a river or the sea symbolizing a ritual to see-off of the Lord in his journey towards his abode in 'Kailash' while taking away with him the misfortunes of his devotees. Unfortunately not all cities are blessed with a river/sea in the proximity. Because of this, various ponds, lakes and other water sources are used to see-off the god. Since the paint material used to color the idol contains 'Lead', this is toxic in nature. PoP too gets dissolved slowly and increases the acidity of water and thus water is polluted when the idol is immersed. This adversely affects the environment and there have been reports of dead fish in the water source where the idols are immersed.
Now that we have understood the problem, solution is pretty simple. Go for Ganesha idols made of natural clay which are not painted. This will not only be environmental friendly but saves our ecosystem as well. I know the next question. But where do we get such Eco-friendly Ganeshas? Well, this is where I need your help. I am compiling a list of places/vendors where one can buy eco-friendly Ganesha idols. Since I am from Bangalore, I am publishing the details here. It would be great if you could come up with an article having details of the places for your city. I will link up your article from my blog and thus we can form a network of blogs to make this Ganesha Festival environmental friendly.
Shortly I would be adding more details about the shops in Hyderabad, Secunderabad area where we can get Clay Ganesha Idols.
Related posts:
Eco-Friendly Clay Ganesha Idols at Hyderabad for Ganesh Chaturthi Festival 2011 – How & Where to Buy?
Students Making shape 'green' Ganeshas in hyderbaad
Category: City News, Warangal News
Comments (0)
Trackback URL | Comments RSS Feed
There are no comments yet. Why not be the first to speak your mind.