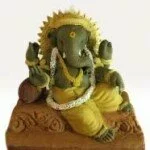 As a tradition, on the end of the occasion of Ganesh Chaturthi, idols of lord Ganesh are immersed into water. Ganesh idols are immersed into the nearby source of water like tanks, lakes, rivers and canals. Traditionally Ganesh idols are used to be made of earthen clay. But with modern technology Plaster of Paris (POP) is being used for the preparation of Ganesh idols.
POP is made up of chemicals like gypsum, magnesium, sulfur and phosphorous. Apart from materials used for the preparation of the idols, the idols are decorated with dyes that also contain chemicals like, mercury, lead, carbon and arsenic which not good for human health. Now Devotees slowly understand the ill effects of immersion of idols made of POP and color dyes.
Environmentalists across the nation are advising to use only eco friendly materials in making Ganesh idols for Ganesh Chaturthi. Devotees using eco friendly Ganesh idols are increasing year by year.
Here are some Tips to celebrate eco friendly Ganesh Chaturthi 2011 with out causing any damage to the environment:
Devotees should use Lord Ganesh idols that are made up of eco friendly materials like idols made of earthen clay. Devotees should decorate the lord Ganesh idol with eco friendly materials like cloth, paper and wood. Chemical dyes should not be used and only eco friendly colors should be used for decoration of Ganesh idol. Separate tanks should be taken and the earthen idols should be immersed into them first. The water should be used for garden. Try to keep as small idols as possible. Other wise devotees are advised to use idols made of metal and should be immersed formally and the same idols of lord Ganesh should be used permanently.
Related posts:
Eco-Friendly Clay Ganesha Idols at Hyderabad for Ganesh Chaturthi Festival 2011 – How & Where to Buy?
The Andhra Pradesh Pollution Control Board (APPCB) is advocating celebrating eco-friendly Ganesha Chaturthi through various awareness programmes
Students Making shape 'green' Ganeshas in hyderbaad
Category: City News, Warangal News
Comments (0)
Trackback URL | Comments RSS Feed
There are no comments yet. Why not be the first to speak your mind.