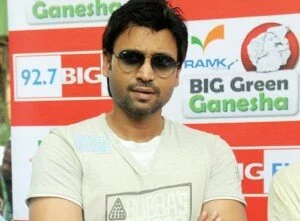 Actor Sumanth is promoting an eco-friendly Ganesh festival this year for which newspapers are being collected from all over the city. These will be later used by Professor S. Kantha Reddy from the JNTU sculpture Department to make an eco-friendly paper Ganesha. And Tollywood actor Sumanth along with Mayor Banda Karthika Reddy are all set to generate awareness about the cause to avoid pollution that is caused during the week long Ganesha festivities.
Says Mr Kantha Reddy, "Paper is a harmless component as it has no chemicals and once immersed in water, it dissolves immediately without leaving behind any toxins." The idol that is being made for the third time in three years will have no added colours but colourful pictures from newspapers will be used to add colour and give it a 3D look. "Every year, we pollute the Tank Bund in the name of religion. It's time to get a bit flexible with the changing times," concludes the Tollywood star Sumanth. Big Fm along with Ramky Group is promoting Big Green Ganesha in the city along with 14 other cities in the country. Let's hope for a cleaner and greener Hyderabad, this festive season.
Source from DC
Related posts:
Medaram Sammakka & Saralamma Jathara, telangana festival, warangal festival, sammakka and saralamma jatra warangal, ap, india
Category: Cinema News, City News
Comments (0)
Trackback URL | Comments RSS Feed
There are no comments yet. Why not be the first to speak your mind.