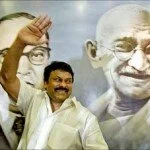 The stage is set for PRP President and  Actor-turned-Politican K Chiranjeevi to take primary membership  of the Congress Party on the occasion of former Prime Minister Rajiv Gandhi's birth anniversary, at New Delhi tomorrow.  Mr Chiranjeevi along with PRP leaders left for the National Capital this morning. After reaching Delhi, Mr Chiranjeevi expressed his happiness before the mediapersons that he would be receiving the membership of the Congress Party in the presence of AICC General Secretary Rahul Gandhi.  AICC President Sonia Gandhi is recuperating in the US after a  surgery. The other members of his party, including the legislators, would take the membership of the Congress Party in Gandhi Bhavan here on August 22 on the occasion of Chiranjeevi's birthday, thus completing  the formal merger of the PRP with the Congress.
No related posts.
Comments (0)
Trackback URL | Comments RSS Feed
There are no comments yet. Why not be the first to speak your mind.