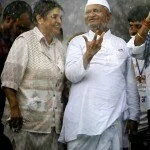 Devotional songs and anti-corruption slogans reverberated in Ramlila ground as social activist Anna Hazare's fast entered its fifth day on Saturday.
Even as the Gandhian was not on stage by 9 a.m., his supporters began the day by forming groups and singing songs. While many were still sleeping, volunteers began distributing water, tea and biscuits.
Early morning walkers and school students were among the first visitors at the protest site, while Municipal Corporation of Delhi (MCD) workers were busy cleaning the garbage dump left by the supporters who came Friday.
As rains are expected later in the day, it would be another busy day for the MCD after heavy downpour left the ground and corporation staff in a sticky situation Friday.
However, the ground was in a comparatively better shape on Saturday with workers continuously moving out the mud.
Hazare began his fast Tuesday when he was taken to Tihar Jail and released the same day – but he refused to move out. He came out of the jail Friday and continued his fast at the Ramlila ground.
Source from DC
Related posts:
Anna Hazare arrested, taken to unknown location
Category: City News, News, State News
Comments (0)
Trackback URL | Comments RSS Feed
There are no comments yet. Why not be the first to speak your mind.