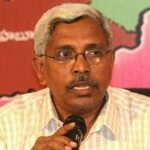 Hyderabad, August 16: Telangana Political Joint Action Committee Chairman Prof M Kodandaram on Monday stated that the Telangana people are agitating for the separate statehood as they have no freedom in their homeland.
Talking to media persons after hoisting the national flag and Telangana flag at TPJAC Office Adarshnagar, Prof Kodandaram said the people of the region are not enjoying the fruits of freedom despite country achieving Independence since long time. In order to fulfil their long pending demands and aspirations, he said the Telangana people are intensified agitation for separate statehood. He also took serious exception over the remark of Seemandhra leaders that abstaining from Independence Day celebrations would become a `traitors of nation.'Stating that Telangana people have lot of patriotic spirit towards the country, Kodandaram asked Seemandhra leaders how they have invested their investments in Dubai based Emmar Properties. Taking inspiration from Independence Day celebrations, he said the Telangana leaders would intensify their agitation for the statehood and general strike to be held on August 17. He also expressed solidarity to civil activist Anna Hazare, who launched crusade against corruption in New Delhi.
Related posts:
Comments (0)
Trackback URL | Comments RSS Feed
There are no comments yet. Why not be the first to speak your mind.