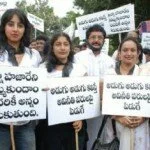 Actor Rajasekar and his wife Jeevitha, Murali Mohan, Shivaji Raja, Sanjana and Babu Mohan along with a host of other tinsel world figures took part in a rally to support Anna Hazare.
The rally was organised by the Movie Artistes Associa-tion on Friday at Film Nagar, Jubilee Hills. The actors tied black ribbons around their mouths as a sign of protest, and help up placardsd.
"We fully support Anna Hazare's efforts to fight corruption. There is no alternative to the Jan Lokpal Bill and it should be placed in Parliament. Politicians should be above board and made accountable," Jeevitha said at the event.
No related posts.
Category: Cinema News