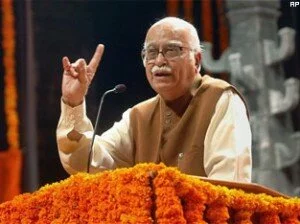 BJP leader LK Advani has asked the UPA government to introduce a bill for formation of Telangana state in the winter session of Parliament, which his party was willing to support. He alleged that Telangana had still not been formed because of the "indecisiveness and paralysis" in the ruling regime at the Centre.
"I hope that in 2012, this long held desire of the Telangana people will be met. By January 1, 2012, the dream of Telangana will be realised provided Dr Manmohan Singh and Congress President Sonia Gandhi take a firm decision and present the necessary bill in the beginning of the Winter Session of Parliament," he said at a press conference in Nizamabad in Andhra Pradesh.
He said there was no need of an assembly resolution for formation of the state of Telangana and that passage of the bill in Parliament was enough. BJP and most Opposition parties, barring CPM, have pledged their support to the formation of Telangana. However, the Congress and Telugu Desam Party have been quite ambiguous on the issue.
"These days I have been hearing that first of all what is needed is a resolution by the state assembly or something of that effect. Let me emphasise that the Constitution of India does not provide anything of that kind," Advani said. Advani pointed out that under Article 3 of the Constitution forming a new State is the responsibility of Parliament. "As the Union Home Minister in the NDA government, I had initiated the process of forming three new states after unanimously passing the Bill in the Parliament," he said adding that in two of the states, resolutions were not passed in their respective assemblies as their chief ministers had opposed bifurcation.
BJP's attempt to corner Congress comes at a time when the ruling party is in a dilemma on the issue caught between fears of statehood demands from other parts of the country and the turbulence in the Telangana region. Congress has not given in to the demand for Telangana despite the ongoing agitation. Training his guns at Home Minister P Chidambaram, Advani claimed he went back on his promise after announcing that Telangana would be formed within 15 days.
"It is a shocking state of affairs that only because the government cannot take a decision, youth are committing suicide… The Union government should stop playing with the sentiment of the people," he said.
To a question about the feelings of the people of other regions of Andhra Pradesh for remaining united, he said formation of smaller states was a necessity from the standpoint of administrative convenience.
source from economic times
Related posts:
Category: Latest News, News
Comments (1)
Trackback URL | Comments RSS Feed