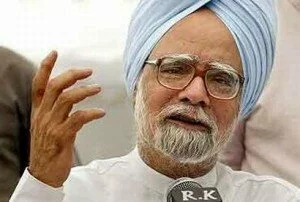 Prime Minister Manmohan Singh has refused to reveal a possible time frame for Telangana state row, saying that resolving the crisis would 'take some time.'
He said this while interacting with mediapersons on Wednesday on a flight back to India after attending the India-Brazil-South Africa (IBSA) summit in Pretoria, South Africa.
Acknowledging that there were difficulties in formulating solutions to the long-standing issue, Dr. Singh asserted that the government was taking all possible steps to quell the row.
"There are difficulties in arriving at quick decision. There is a long history of the Telangana movement, which is not a new movement. It has been there since the mid-fifties and given the complications involved in settlement, it will take some time and that is why we have been engaged in widespread dialogue discussions with all the stake holders and it is our hope that out of that will emerge a solution which is a win-win situation for all concerned," Dr. Singh added.
Pro-Telangana activists have stepped up their efforts for the four-decade-old demand of a separate state, which is sought to be carved out of the economically less developed parts of Andhra Pradesh.
Dr. Singh also categorically denied reports suggesting he wishes to dilute the ambitious Right to Information Act, which has been instrumental in exposing a string of multi-billion dollar scams.
"I never said there should be any dilution (of the Right to Information). I think there are certain ways in which things can be done. All I had said was that we should reflect how to achieve in totality the purposes for which RTI has been set up. I never said that we are going to change the RTI," he said.
Singh also dismissed speculations of a possible rift within the United Progressive Alliance (UPA) in the wake of scams and other politically contentious issues, adding that there was coherence between the coalition allies.
"You have my assurance that despite different perspectives that the various members of our coalition may have managing of the cabinet of UPA has never been a difficult task. Our government functions with the coherence which it needs in order to carry out its mandate given by the people," he said.
No related posts.
Comments (0)
Trackback URL | Comments RSS Feed
There are no comments yet. Why not be the first to speak your mind.