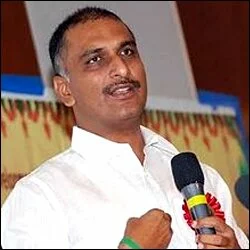 T. Harish Rao, Telangana Rashtra Samithi (TRS) deputy floor leader in the Assembly, has warned the State government not to test the patience of the people in Telangana and complicate the problem further.
Alleging that Governor E.S.L. Narasimhan and Chief Minister N. Kiran Kumar Reddy were sending wrong reports to the Union Government, Mr. Harish Rao said that the two day rail roko should be an eye-opener to the rulers at Delhi.
"How could the Governor and the Chief Minister send wrong reports to the Union Government and how could the Centre be blind to the ground reality and, the ongoing Sakala Janula Samme in the Telangana region for the past 13 days?" he wondered while participating in the second day of the two-day rail roko programme at Manoharabad in Medak district on Sunday.
Mr Harish Rao along with party workers and agitators spent the entire night at the railway station and even had food there. He said that the Telangana Joint Action Committee was ready to take up rail rokos for longer periods if the government failed to honour the aspirations of the people in the region. The 48-hour long protests continued in all the four railway stations in Medak district till Sunday evening.
Governor, Chief Minister are sending wrong reports to the Centre: Harish Rao
Related posts:
Category: Latest News, News, News, Telangana
Comments (0)
Trackback URL | Comments RSS Feed
There are no comments yet. Why not be the first to speak your mind.