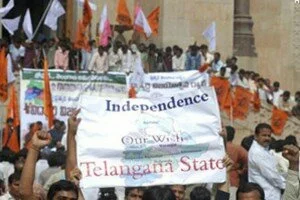 Maintaining that people of Telangana are disappointed with Congress leaders from the region for not participating in the ongoing general strike in support of separate statehood demand, the Telangana Congress MPs will meet in Hyderabad on Thursday to discuss the issue.
"People are disappointed that we are not participating in the strike. The Telangana Congress steering committee would meet tomorrow to discuss the issue," Congress MP G Vivek said.
Alleging that Andhra Pradesh Chief Minister N Kiran Kumar Reddy was adopting coercive steps over the ongoing strike, he claimed that it was hurting the party in Telangana.
The Congress MPs from Telangana region are planning to go to Delhi to meet the party leadership to express their views on the prevailing situation and the need to take an early decision on the contentious issue, he said.
The Telangana political Joint Action Committee (JAC) began the 'sakala janula same' (strike by all sections of people) on September 13 in support of the separate statehood demand. It vowed to continue the strike till the goal is achieved.
source from IBN Live
Related posts:
Supporting the ongoing Telangana employees' general strike, Parkala legislator Konda Surekha and Bhadrachalam MLA Kunja Satyavathi resigned afresh for the cause of Telangana.
Telangana activists to enforce general strike, Telangana A serious edge, Telangana Dies non, Telangana Position of leverage, Telangana Resignations submitted
Renuka Choudhry says: "Do we leave the country if they ask us to leave through 'Sakala Janula Samme (General Strike)? There is no influence of the strike in the state.
Comments (0)
Trackback URL | Comments RSS Feed
There are no comments yet. Why not be the first to speak your mind.