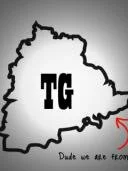 September 17 is significant in the chequered history of Telangana as it marks the day in 1948 when Hyderabad merged with the Indian Union after the Indian Army, led by Major General J.N. Chowdary, vanquished the forces of the Nizam.
Sixty three years after the Police Action, Telangana is again simmering — though for a totally different reason — following an agitation for carving out a separate State comprising all the districts of the erstwhile Hyderabad State, minus those that now formed part of Karnataka and Maharashtra.
In what is meant to be a climax to the 22-month-old agitation for Telangana, a "Sakala Janula Samme" (general strike) is being enforced, requiring all sections to stop their daily work as a sacrifice for the cause of achieving a separate State.
A serious edge
Although people have resigned themselves to regular bandhs and the government to a daily loss of Rs. 300 crore to the Exchequer, the present strike has a serious edge to it. For the fifth day running on Saturday, government offices and educational institutions remained closed in Telangana although in Hyderabad, attendance at the Secretariat was close to normal.
The Telangana Non-Gazetted Officers (TNGOs) ensured that all activity in the District Collectorates came to a grinding halt. Those visiting the offices of tahsildars carrying applications for pensions, ration cards and issue of land pattas found empty offices.
Parents in Telangana, worried over the prospect of their wards losing out on the academic year owing to frequent bandhs, have admitted them in corporate colleges in Visakhapatnam and Vijayawada in Coastal Andhra to crack the common entrance tests and join engineering, medical and management courses. Some schools are asking children to avoid wearing uniforms so as to escape the wrath of Telangana activists.
Dies non
In a day or two, however, work on preparing salary bills would begin. The government would have no option but to enforce the Government Order 177, which stipulates dies non (no-work no-pay), in line with an order of the High Court. Contracted and outsourced employees, who constitute a good chunk, would be vulnerable to sacking. With the Dussehra festival round the corner, employees can ill-afford loss of jobs or even cuts in pay.
In the 1980s, NGOs throughout the State had struck work for 55 days until the then Chief Minister, N.T. Rama Rao, acted tough and implemented 'dies non'. This time round, the employees are receiving support from an expected quarter — store-owners in the neighbourhood, who have promised to supply groceries on deferred payment till they receive salaries.
A major source of worry for the government was the strike in the Singareni Collieries Company, whose mines straddle four districts of Telangana and its impact on thermal power generation. But, the government was quick in getting supplies from Coal India's mines to keep the thermal power stations running. Singareni Collieries management is expecting attendance and production to improve from Monday.
Position of leverage
The current turmoil, which is accentuated by the refusal of many Telangana Ministers to attend work in the Secretariat, affords an opportunity for Congress leaders to show their strength.
On Friday a senior Minister called Andhra Pradesh Chief Minister N. Kiran Kumar Reddy and asked him to order the release of TNGO union president K. Swamy Goud after his arrest. As a result of such pressure, an embattled Mr. Reddy is often forced to take one step forward and two steps backward.
Resignations submitted
Telangana Congress leaders stopped just short of announcing their intent to topple the government when on Friday they threatened not to allow it to continue if Statehood was not conceded. They have resolved to up the ante once again by submitting the resignations of MLAs and Ministers, this time to the party high command.
source from the hindu
Related posts:
Supporting the ongoing Telangana employees' general strike, Parkala legislator Konda Surekha and Bhadrachalam MLA Kunja Satyavathi resigned afresh for the cause of Telangana.
Getting 'huge' response for Sakala Janula Samme from all over Telangana with all parties
Comments (0)
Trackback URL | Comments RSS Feed
There are no comments yet. Why not be the first to speak your mind.