History Of Warangal Municipal Corporation
Warangal is one of the oldest Municipalities in A.P. It was declared as an urban area in the year 1901. It was constituted as a major Municipality in 1344 Fasli. i.e., in 1934. For the first time, the elections were held on adult franchise in 1952 under Hyderabad Municipal and town committees Act – 1951 and a Municipal Committee was constituted. It was upgraded into a special grade Municipality in July,1959 and as a selection grade municipality in July 1960 and was declared as Municipal Corporation on 18th August, 1994 and A.P.Municipal Corporations Act – 1994 (Act No. 25/94) came into operation.

Warangal is the head quarters of the district of the same name and is situated between a latitude of 18'-4′ North and 79*-4'-28′ East longitude on Chennai – Delhi section of the South Central Railway at an altitude of about 900 Ft above the main sea level. Warangal is a centre of education for both academic and professional courses and a place of growing interest for a keen historian, an enthusiastic Geologist, an ambitious archaeologist and for a curious piligrim to explore more and more into the historic movements, a variety of geological formations, and the ancient temples available in and around the city. Rice mills, small scale industries, Beedi industries, Azam Jahi Textile mill besides Medical and Regional Engineering Colleges and Kakatiya University has made Warangal the second most important city in Telangana next to Hyderabad. The establishment of a link by rail; and the network of roads laid and developed from time to time have added to its importance as a commercial center.
History From 1155 AD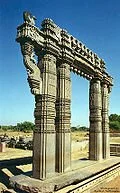 'Orugallu' occupies a special place in Andhara History and brought to prominence by kakatiya rulers, such as Prolaraju, Rudramadevi, Ganapathi Devudu and Prataparudra who ruled between 1199 A.D and 1323 A.D. Their kingdom spanned the entire area that lies between the Krishna and the Godavari rivers and includes the area which has been previously part of Deccan area, ruled by Andhra kings. This area was under the Tuluva rulers in the eighth century and was later taken over by the Chalukyas. Infact, Prolaraju defeated Yadava, the third, and brought it under his control. He ruled in between 1115 A.D and 1158 A.D. It was under his role that the capital has been shifited to Warangal from Hanamkonda. Prolaraju built the famous temples of Padmakshamma temple, Siddheswaralayam and Swayambhukesavalayam. He expanded the kingdom to the above mentioned areas in phases. Kakatiya Rudradeva succeed him in 1158 A.D and ruled it over till 1196 A.D. It was he who built the thousand pillar temple of Siva in Hanamkonda between 1196 A.D and 1256 A.D. Ganapathi Rudradeva ruled the kingdom and expanded it up to Nellore, downsouth. In 1199 A.D, work to build Orugallu Fort was initiated. Lakes of Pakala, Laknavaram, Ramappa and the Ramappa temple were built by him. Rudramadevi, Ganapati Rudra's daughter, succeeded him and ruled till 1296 A.D. It was under her rule that the Swayambhudevalayam was built. Her grandson and pattren of literature Prataparudra succeded her in 1323 A.D until he was defeated by Mohammad Bean Tuglaq. Prataparudra had completed the work of Thousand Pillar Temple and opened it for public worship. Subsequently during 1335 AD and 1336 AD the Andhra area, was broken off into smaller states due to weakening of muslims role. Warangal area was ruled by Musunuri Katiahmayudu and Bhadrachalam area, by Musunuri Prolaya Naidu. The later had Koonavarans as his capital. In 1422 AD, Orugallu was captured by Bahumani sultans. Golkonda Kutubshahi defeated them and brought it under their control in the early 16th century. Shitab Kutubshahi was made the Governor of Warangal. In 1725 AD., Mogal kings have defeated the seventh Sultan, Abdul Hasam Tanishq and captured the Golkonda kingdom, in which Warangal was a part. Asafja Nijam-ul-mulk, became the 'sibedar' of the south and became the first ruler of Nizams governance. It remained under Nizam's rule till 1945 AD when it became part of Hyderabad zone. In 1956 AD it was acceeded to Andhra Pradesh. Warangal being the centre, became the district headquarters. Some historians maintain that Orugallu had been built by Prolaraju in the 12th century. They contend that the district was formed by Tulus and was known as Vorakalli in a 8th century. Warangal was also believed to be known as 'Tolini Koranakula'. It was also referred to as 'Akshalinagaram'. Ragunatha Bhaskar referred to Warangal as 'Ekasilanagaram' in his popular literary work Aravabinakosam.
Formation Of Warangal District
Warangal was ruled by different dynastics. Sathavahanas, Chalukyas, Rashira kutas, West Chalukyas or Kalyani Chalukyas, Kakatiyas, Musunuri kings, Rocharla rulers, Bahumanis, kutubshahis, Mogals, Asafjanis, many others have all ruled it at different periods. This district was previously, part of Kahmmam district. In 1905 AD, Warangal was made the district headquarters. The Warangal district was formed with Warangal, Pakala, Khammam, Yellandu, Mahabubabad, Madhira, Palvancha taluks and some area of old palvancha sanstan and some jagirs.This was bigger than many districts of old Hyderabad state.In 1953,there was no major shuffling of areas except for shifting of some villages from one taluka to the other. Subsequently, the district was divided to facilitate administrative control and on October 1, 1953 the Khmman district was formed. Khammam, Yellandu, Madhira, Burugunpahad and Palavancha talukas have been made part of it. Warangal, Mulugu, Mahaboobabad, Pakala remained in Warangal district. But Parkaala from Karimnagar and Janagaon from Nalgonda have become part of Warangal district. After these changes in 1953, a village of Janagaon taluka went to Medak district. Later no major changes have been taken place, except for name change of Parakala to Narsampura during 1960-61.
Geogrophical Position Of Warangal
Warangal is situated between 170 19′ and 180 36′ in the northern latitudinal line and between 700 49′ and 800 43′ on the eastern longitudnal line
Boundaries Of Warangal
Warangal is surrounded by Karimnagar on the northern side and Khamman and Nalagonda on the south.The area is 12,846 sq km. This is 4.67 % of the total are under our state and the district contributes 4.23% of states population, This district is full of mountain ranges and is at a height of 26548 metres.Three main mountain ranges characterise Warangal. On the southeastern side, the mountains range from Parakala to Aswaaraopeta in Khammam District. Another mountain range extends upto Adilabad, Further, Chandragiri hills and Metal hills in Hasanparthi are popular mountain ranges.
Weather In Warangal City
The district receives rain mainly during southwest monsoon and has a dry and hot weather for the rest of the year. Winter occurs between December and February and Monsoon between June and September. In Summer, the temperature crosses 400 centigrade, and during winter it falls below 150 centigrade.
Rainfall In Warangal
Average rainfall in the district is 1049mm per year, out of which, southwest monsoons contruibute 866 mm and northeast monsoon contributes 109mm. In summer, the district recieves 59mm rainfall and in winter about 15mm rainfall.
Various Rivers In Warangal
Godavari flows thro the district from Gangirams village of Mulugu Taluka and runs along the Eastern boundary. It flows south east and touches Burugumpadu in Khammam district, before entering East Godavari District. There are other rivers like Akeru, Muneru, Paleru which flow throu' the district. Muneru originates from Elchuligutha of Kishiapuram village of Narasampet Taluka 19 k.m. on the downward flow. Pakala lake was buite. This lake travels 38 km. before merging with Vatlivagu near Govindapuram village of Mahabubabad taluk.
Related posts:
Category: Culture, Warangal Info
Comments (0)
Trackback URL | Comments RSS Feed
There are no comments yet. Why not be the first to speak your mind.