Geography of Warangal District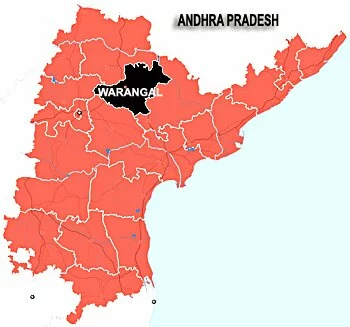 The district of Warangal has an area of 12,846 km. It is bounded by Karimnagar in the north, Khammam in the east, to the west is the Medak district and the district of Nalgonda lies to the south-west of Warangal. It has been divided into 51 mandals. Warangal being located in the Telangana region of Andhra Pradesh has a hot and dry climate. The hottest season of the region is the month of May and the south-west monsoon winds bring rainfall to the region of Warangal. The annual rainfall of the area is 1048.1 mm. The winters in the district are mild and comfortable and it can be said that winter is the best season to visit the district.
District Boundaries: North – Karimnagar, South – Nalgonda, East – Khammam, West – Medak.
Mandals: 1.Chityal 2.Mogullapalli 3.Bupalpalli 4.Parakala 5.Sayampeta 6.Regonda 7.Mulugu 8.Ghanapur 9.Venkatapur 10.Govindaraopeta 11.Eturu nagaram 12.Thadvai 13.Mangapet 14.Gudur 15.Kanapur 16.Kothagudam 17.Narsampeta 18.Nallaballi 19.Chennaraopeta 20.Dhuggonda 21.Nekkonda 22.Hanmakonda 23.Hasanaparthi 24.Athmakur 25.Geesukonda 26.Sangam 27.Ganpur 28.Dharmasagar 29.Japherghad 30.Cheriyal 31.Bhachannapeta 32.Nermatta 33.Madduru 34.Vardhannapeta 35.Parvathagiri 36.Rayaparthi 37.Janagam 38.Raghunathapalli 39.Lingalaghanpur 40.Kodakandla 41.Palakurthi 42.Devuruppala 43.Maripeda 44.Dhanthalapalli 45.Thorroor 46.Mahabubabad 47.Balpal 48.Dornakal 49.Nellikuduru 50.Kesamudram
Revenue Divisions: There are 3 revenue divisions in this district namely Warangal, Mahabubabad, Parakala.
Rivers: Godavari, Aleru, Munneru, Paleru, Kinnarasani, Vyra.
Major Crops: Paddy, Millet, Chilli, Groundnut, Maize, Greengram, Castor seeds.
Major Industries: Cotton, Carpets, Leather.
Related posts:
Category: History, Warangal Info
Comments (0)
Trackback URL | Comments RSS Feed
There are no comments yet. Why not be the first to speak your mind.