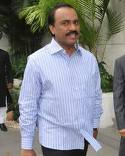 The special court for CBI has remanded both Obulapuram mining corporation baron Gali Janardhana Reddy and MD of OMC B.Srinivas Reddy till sept 19, and both are likely to be moved to Chanchalguda Jail, according to information reaching here today. Meanwhile, Gali advocates have applied for bail in the special court stating that both the accused would extend full cooperation to the CBI.
The special judge is likely to start the 'examination' on Wednesday. The defence counsels argued before the special judge that Gali was in no way connected to the mining operations and even OMCmanaging director Srinivasulu was acting as a representative of the OBC and not beyond that and as their arrest was questioned.
The Central Bureau of Investigation (CBI) arrested mining king of Obulapuram and former minister Gali Janardhan Reddy and Managing Director of Obalapuram Mining Company B.V.Srinivas Reddy after conducting raids at their premises.
Gali Janardhan Reddy was the Tourism and Infrastructure Development Minister in the regime of Yeddyurappa, was among those indicted by the Lokayukta report on illegal mining submitted to the Government on July 27. CBI sources said the two were arrested this morning.
There are allegations of irregularities in the mining activities of OMC. About 65 mining companies including OMC are under the CBI scanner. Earlier, a CBI team from Hyderabad searched Janardhan Reddy's house in Bellary in the wee hours and seized some documents from his residence. Sleuths also raided the premises of Srinivas Reddy here.
Sources said the CBI team led by its IG, Lakshminarayana has taken Janardhana Reddy and Srinivas Reddy to Hyderabad for further questioning. The probe agency's action comes a day after Reddy's associate and former Karnataka minister B.Sreeramulu resigned from his Assembly seat, protesting against the BJP's denial of ministerial berth to him and also keeping the Bellary Reddy brothers out of the ministry. The CBI has found near about 30 kilograms of gold at Gali's house in searches. "Searches has been continued", CBI sources told.
Related posts:
Comments (0)
Trackback URL | Comments RSS Feed
There are no comments yet. Why not be the first to speak your mind.