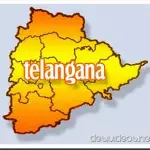 The Telangana Rebellion was a Communist led peasant revolt that took place in the former princely state of Hyderabad between 1946 and 1951. This was led by the Communist Party of India.
The revolt began in the Nalgonda district and quickly spread to the Warangal and Bidar districts. Peasant farmers and labourers revolted against the Nizam and the local feudal landlords (jagirdars and deshmukhs) who were loyal to the Nizam. The initial modest aims were to do away with the illegal and excessive exploitation meted out by these feudal lords in the name of bonded labour. The most strident demand was for the writing off of all debts of the peasants that were manipulated by the feudal lords.
Few among the well-known individuals at the forefront of the movement were great leaders like Puchalapalli Sundaraiah, Makineni Basavapunaiah , Chandra Rajeswara Rao, Raavi Narayana Reddy, Arjula Ramana Reddy, the Urdu poet Makhdoom Mohiuddin, Hassan Nasir, Bhimreddy Narasimha Reddy, Mallu Venkata Narasimha Reddy , Mallu Swarajyam , Arutla Ramchandra Reddy and his wife Arutla Kamala Bai.
The violent phase of the movement ended after the central government sent in the army. Starting in 1951, the CPI shifted to a more moderate strategy of seeking to bring communism to India within the constraints of Indian democracy.
Related posts:
Category: Telangana, Telangana History
Comments (0)
Trackback URL | Comments RSS Feed
There are no comments yet. Why not be the first to speak your mind.