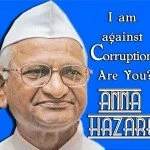 One is a telecom engineer, another is an event manager, the third one is contractor and the fourth quit his government job to become a social activist. On a fast here in support of Anna Hazare's demand for a strong Lokpal bill, their condition is slowly deteriorating, one of the quartet said Thursday.
"Today, the police come with doctors and after a check-up, they said that keatons have increased in our bodies and we should be get admitted to hospital and break our fast, but we refused," Vipin Kothari (39), a BSNL junior engineer who has taken 15-days leave, told IANS.
"When 74-year-old Anna Hazare has not broken his fast, how can we, who are much younger than him, break our fast", Kothari added.
Sharad Kumre (40), Amar Singh Parmar (31) and Shishir Agrawal (28) are the others on fast under the banner of Prakaram Jan Sewa Sansthan (PJSS) that supports India Against Corruption.
"My weight has reduced by 6 kilograms but I have no problem and I want to continue the fast. We told the police that if they take us to jail, we will continue our fast there also," said Kothari, adding his 16-year-old daughter Prakriti is worried and has not been able to sleep well since he went on fast.
Kumre, a social activist who left his government job with the village industries department, has lost 4 kilograms during his fast. A founder of the PJSS, he left his job in 2001 after his sister, who was a constable in the Central Reserve Police Force (CRPF), was killed in a militant attack on Srinagar airport.
"Before getting killed she had killed four militants. I realized that because of corruption, militants are getting arms and ammunition from outside country. Corruption is the root cause of every problem in our country, so when I got a chance to raise my voice against corruption, I followed Anna Hazare's call," he said.
Parmar is a contractor with the public works department, while Agrawal is an event manager.
Along with the quartet, three others – Somshri Ajmera, Nisha Mishra and M. R. Reddy – are on a 12-hour fast since August 16.(IANS)
Source from TopNews
Related posts:
Category: City News, Latest News, News, News, Top News
Comments (0)
Trackback URL | Comments RSS Feed
There are no comments yet. Why not be the first to speak your mind.