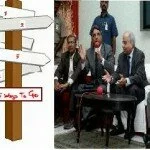 Justice c committee on the Telanganastatehood issue submitted its report on the feasibility for carving out a separate state out of Andhra Pradesh to Union Home Minister P Chidambaram on Thursday.After receiving the two-volume report Chidambaram said that the Srikrishna committee recommendations onTelangana will be discussed with the political parties and added that it will be made public on January 6, 2011."The Government will look at the report and do consultations with political parties. Letters inviting political parties are being sent. Immediately after the meeting with eight recognised parties, the report will be made public on January 6, 2011.After the report is made public, media should report the contents in the right direction. I seek cooperation from media once the report is made open," said Chidambaram after Justice Srikrishna presented him the report at his North Block office.

Option 1:Maintaining status quo: The committee said it is of the unanimous view that it would not be a practical approach to simply maintain status quo in respect of the situation.
Option 2: Bifurcation of the state into Seemandhra and Telangana, with Hyderabad as a Union Territory and the two states developing their own capitals in due course:
Option 3: Bifurcation of the state into Rayala-Telangana and Coastal Andhra Regions with Hyderabad being an integral part of Rayala-Telangana:
Option 4: Bifurcation of Andhra Pradesh into Seemandhra and Telangana with enlarged Hyderabad Metropolis as a separate Union Territory. This Union Territory will have geographical linkage and contiguity via Nalgonda district in the south-east to Guntur district in coastal Andhra and via Mahaboobnagar district in the south to Kurnool district in Rayalaseema.
Option 5: Bifurcation of the state into Telangana and Seemandhra as per existing boundaries with Hyderabad as the capital of Telangana and Seemandhra to have a new capital.
Considering all aspects, the Committee felt that while the creation of a separate Telangana would satisfy a large majority of the people from the region, it will also throw up several serious problems. Therefore, after taking into account of the pros and cons the committee did not think it to be most preferred, but the second best option. Separation is recommended only in case it is unavoidable and if decision can be reached amicably amongst all the three regions.
Option 6: Keeping the state united by simultaneously providing certain definite constitutional/statuary measures for socio-economic development and political empowerment of Telangana region-creation of a statutorily-empowered Telangana Regional Council:
Related posts:
Category: Telangana, Telangana Facts, Telangana History
Comments (0)
Trackback URL | Comments RSS Feed
There are no comments yet. Why not be the first to speak your mind.