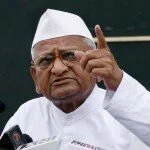 A defiant Anna Hazare setting the tone on day six of his protest fast said that they are going to set an example for non-violence protest against corruption in the country. The anti-corruption crusader also said, "This support is a ray of hope for me. It's time for another revolution."
Praising the media as he continued his fast on sixth day Anna on Sunday said, "media has proved to be an important pillar". "They have reached across the country and have an important role to play in gathering support for us, " said Anna.
Anna claimed, "I have been fighting against corruption since 20 years. Staying in a temple; and still boast of forcing six cabinet ministers to step down." He said even if the Prime Minister comes, till Lokpal Bill is not sanctioned, they will not step back.
Anna's close aide and RTI Activist Arvind Kejriwal also addressed Anna's supporters at Ramlila Maidan on Sunday.
In response to NAC member Aruna Roy's third version of the Lokpal Bill Kejriwal said, "We are in favour of discussion, and invite the government, NCPRI and all the NGOs to come forward and discuss with us on the Jan Lokpal Bill in front of all the supporters at Ramlila Maidan."
Kejriwal also commented on the terms and conditions. He said, "We went over all the terms of the Jan Lokpal bill. All points are eqaully important. No one from the government has approached us. It is very sad considering it's the sixth day."
Commenting on Prime Minister Manmohan Singh's statement Kejriwal said, "PM says he wants to talk. But who should we talk to."
Stepping up their action, Team Anna called for a gherao of members of Parliament so that they clarify their stand on the Lokpal Bill. "We request you to ask your MP's why they are silent on the Lokpal Bill? Which bill are they with. It's important to sit on a dharna outside all leaders from the Congress and the BJP."
Team Anna also requested parties to clear their stand on the Lokpal Bill.
No related posts.
Comments (0)
Trackback URL | Comments RSS Feed
There are no comments yet. Why not be the first to speak your mind.