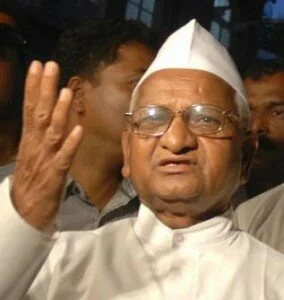 "Ketone particles have been traced from his blood and urine… He has lost five kg of weight, his health is all right otherwise," Kejriwal told reporters at Ramlila Ground where Anna Hazare is sitting on fast.
Ketones are particles created by the body during starvation, and are meant to provide an alternate source of fuel from fatty acids.
Anna Hazare was detained Aug 16 and taken to Tihar Jail, where he remained until Friday when he shifted to Ramlila ground.
Anna ready to talk but with riders
Earlier, on the sixth day of his hunger strike, social activist Anna Hazare said the door for talks with the government was open but he vowed to continue his protest to maintain pressure for an anti-graft legislation drafted by his team.
"The path of negotiations is not closed for us. It is still open. Only through dialogue can issues be resolved," the 74-year-old told cheering crowds at the spacious Ramlila Ground here.
Hazare's seemingly softened stand comes a day after Prime Minister Manmohan Singh said the government was ready for a "give and take" on the bill that sets up an independent and powerful anti-graft watchdog called the Lokpal.
The prime minister indicated his willingness to end the stand-off with Hazare as he spoke to select media outlets, including IANS.
By Sunday evening, the crowds at the ground swelled to several thousands even as huge protests in many cities and towns of the country gained momentum on a weekend.
Hazare, in his address to the crowd, also launched a sharp attack on the government, saying its intentions were "not good".
Source from MSN
Related posts:
Comments (0)
Trackback URL | Comments RSS Feed
There are no comments yet. Why not be the first to speak your mind.