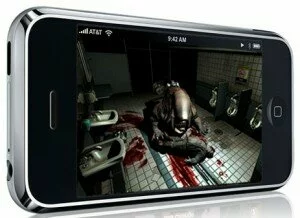 Apple has managed to rock the world releasing the thrilling iPhone able to satisfy even the most demanding customers. For many, it is a wonder of the modern technology featuring the most popular multimedia functions in a single device. The iPhone can even become a real gaming console enabling you to enjoy your favorite games with high quality characteristics such as real-time 3D graphics, accelerometer, multi-touch interface and 3D real surround audio system. And the best is that you can get the most popular games totally for free! Here is a list of the top free iPhone games:
1. Cube: For the first person shooter aficionados, the Cube is an excellent game offering superior and fast gameplay. It can be played either by one or multiple players via WiFi connection. Cube offers a big variety of gameplay modes and different sceneries to play on. Locate your opponent, aim and shoot!
2. iMob Online: If the mysterious underground world fascinates you and want to become the new Godfather, then iMob is ideal for you! It is another mob-themed game with a straightforward gameplay, especially if you are addicted in Facebook's Mafia Wars. You have to build and grow your own Mafia, do jobs, purchase artillery, armor and vehicles, fight and rob other mobs and run effectively your business to gain money and level high on the Mob world. You can also invite your friends as iMob online is one of the most popular multiplayer games.
3. Race or Die 21 Respect: If 'The Fast and The Furious' is your favorite movie then, you should definitely try the Race or Die 21 Respect. Customize your car the way you want and rule the dangerous high-speed streets! Invite your friends and race them to the end! The game also offers free pop-up notifications when your friends enter the game, real-time instant messaging, a world-wide high-score board and free updates including new missions, cars and the coolest accessories to make your vehicle the best worldwide! The Race or Die 21 Respect is the ultimate online racing game. Do not miss it!
4. Adrenaline Pool Online 2: Is pool your favorite hobbie? Then download Adrenaline Pool Online 2 and enjoy! Being the best multiplayer online pool game, you can easily find hundreds of daily users to play with automatic matchmaking and rank high on the world boards. The game features 3D graphics, easy cue control, real-life gameplay, chat filter for instant messaging, personal profiles with photos and authentic physics. Play your favorite 8-Ball, 9-Ball, Straight or Snooker against global players and become the ultimate pool player!
5. iBasketball: Love shooting balls? Want to do it anytime, anyplace? Then iBasket is for you! Swing your iPhone  and manage the angle and power of your shot and become a world champion!  Play online with your friends or worldwide gamers in the coolest courts and establish your territory. Try your best and get on the top places of the global leader boards. The iBaskeball definitely deserves your attention!
6.  Aero Guitar Free: Aero Guitar Free is the ultimate musical game featuring a large list of the most popular songs, high quality sound, different songs for each level and global high scores. Initially created for the Wii console, Aero Guitar Free has dedicated fans all over the world demanding its release for the iPhone. Play your favorite song using guitar, drums and synthesizer and make your dreams come true!
7. iBall3D: The iBall3D is probably the best free puzzle game for the iPhone and the remake of the famous game called Labyrinth. Featuring an amazing interface and 9 different challenges, you have to guide successfully a ball through the 3D labyrinth by swinging your iPhone while avoiding holes and obstacles. Did you make? Let the world know adding your final score to the iBall3D server!
8. TapDefense: Tapdefense has been nominated as one the most popular and successful free games on the Bestappever 2008 awards. You can easily lose track of time while playing as you are drowned into the fantasy world of Tapdefence. It is in fact a strategy game where you have to fight and repel your enemies by obtaining the best artillery items and by building your towers the best possible way. Despite that is a free game, it features 42 levels, different enemies as you level up, six types of towers and six different game modes. TapDefence is a game that you must not miss!
All you have to do to obtain the above games is to visit the official Apple store at: http://www.apple.com. Browse among the various categories, find what you are looking for and enjoy the iPhone gaming world!
Related posts:
Category: Technology News